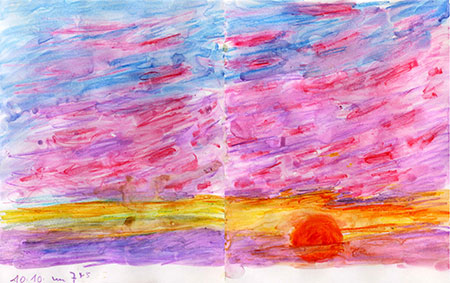 In the year 2016 I documented the sunrise every morning. This project – as harmless and simple as it seems here – demands a lot of discipline and precision, because depending on the season the time of the event changes, which in Europe only lasts three to four minutes: THE SUNRISE.
The term "sunrise" is scientifically unsuitable for the daily occurrence. The sun does not rise, but shows up again on our side of the globe and ushers in the new day.
In midsummer, the sunrise begins at around 4.30 a.m. and in winter around 9 a.m. When most people are still sleeping in summer or when the hectic pace of everyday life begins in winter, I took the time to draw the sunrise in a few minutes with my watercolour pencils in my book – size 38 x 24 cm. There was a moment of pause and silence. The individual drawings are dated, and in some cases annotated with comments relating to the weather, time and place.
The archive of sunrises can be viewed on the internet at : fraukebeecksonnenaufgang.tumblr.com.